As you expect your little bundle of joy, for moms-to-be, one of the highly anticipated events is a baby shower party. As you get to celebrate the milestone, play baby shower games, share some parenting wisdom, and exchange gifts, you want to wow your guests with a special and personalized baby shower favor. Thoughtful baby shower favors will make them feel special long after the baby shower is over.
If you are looking for inspiration and information on the best creative token of your guests' appreciation, you are in the right place.
However, with social distancing requirements during this COVID-19 pandemic, you want to prioritize your family and guests' health and safety. But just because we are restricted does not mean you can't make your baby shower memorable.
For virtual events, you can send baby shower favors to your guests or choose something that your attendees can use during the virtual baby shower, like a matching gorgeous flower crown. 
The following are creative baby shower favor ideas to give your guests, whether in a virtual or in-person event taking precautions.
12 Baby Shower Favors Ideas
Celebratory Champagne Baby Shower Favor
Baby showers' guests want to pop a bottle of champagne and toast the arrival of the newborn baby. Get them a bottle of champagne with personalized labels or an appreciation note.
Scented Candles
Choose a baby shower candle with a scent significant for the mother-to-be. For example, if the mother-to-be is due in the Fall, candles with autumn leave fragrance would be perfect. You can also choose colors that have a deep meaning to the mother. Use them for gender reveal blue for a boy and pink for a girl.
This is a special, memorable gift to share with your guests to spice up their kitchen techniques. These are award-winning seafood chowder spices that have been a family secret for Newport Chowder Company since 1985.
You can get a customized spice packet for your baby shower party favors and share the magic and a taste of Newport, Rhode Island, with all your guests. These spices are shelf-stable and a great kitchen staple because they are delicious in more than just our chowder. Order these Chowder Spice packs from Newport Chowder Company. Send your guest list, and they will send the spice pack directly to your door!
Hair Ties Baby Shower Favor
A hair tie is a perfect favor if you are expecting a little princess. Personalized hair ties are the practical reminder of a baby girl shower. You can mix them up in a collection of different colors and connect them with an appreciation tag.
Bow Ties
For the little man you are expecting, hand-crafted or machine-made bow ties are an adorable, and thoughtful gift. Whether it is a virtual or in-person event, you can have your baby shower guests wear them, then take them home and gift their husbands, brothers, or fathers.
Baby Bookmarks
Celebrate your big day by making simple baby bookmarks with significant designs for your future baby bookworm. A bookmark is an ideal baby shower gift because it is cheap, and you can customize it. You can also include a small thank you note for your guests to always remember your celebration.
Bracelets
A beautiful bracelet is a thoughtful gift to express your gratitude. You can choose different colors to gift each guest a unique option. A bracelet is perfect because it is durable, and your friends and family can always remember the day.
Seed Packets
Send your guests a beautiful growing gift that actually lasts. It could be flower seeds put in a lovely customized packet. Be sure the growing flower or plant will always remind them of your growing bundle of joy.
Scented Bath Soap
Send a gift from your shower to your guest's shower. A scented soap is perfect for a gender reveal, where when your guests unveil the gift from a customized packet, the color and scent reveals the gender. A piece of blue soap would be ideal for a boy.
Baby-Shower-Themed Cookies
Show off your baking skills by gifting your guests with homemade sugar cookies. You can make them in baby shower shapes such as a bib, baby bottle, or baby carrier. For a creative touch, pack them in lovely bags with colorful labels and include a personalized appreciation message. Make the big gender announcement by making your cookies with pink or blue icing.
Nail Polish
Choose a perfect shade of pink or blue nail polish for your guests as you also reveal the gender. They will remember your big day each time they use the nail polish at their manicure or pedicure. You can also rap the nail polish bottle with beautiful packets and attach a thank you message tag.
Coffee Mugs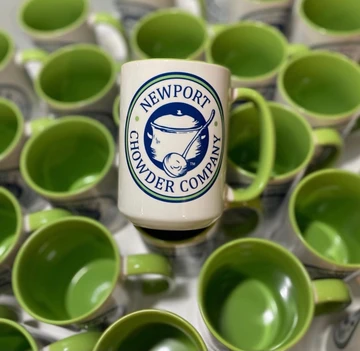 As a new mom, you will need coffee to stay all those sleepless nights with the baby. So a perfect coffee mug for your guests is obviously significant. Gift your guests with coffee mugs customized with your baby shower theme and add a personalized message. Coffee mugs can also be sent to your attendees before the virtual event so that all of you can use a matching coffee mug. Fill the mug with popcorn or your favorite tea bags as a special small gift. Wrap it up with a special thank you note to express your gratitude.
What do you put in favor bags for baby showers?
There is a wide of items you can put in the favor bag to match the baby shower decorations: Some of the best but simple baby shower favors include:
Succulents
Long-lasting and pretty wedding succulents that your guests will be able to hang onto long after the party is over.
Jewelry
This is a highly personalized gift for your guests. Get them pretty and unique earrings, necklaces, or bracelets that will make them always remember you.
Beauty product
Ladies will definitely love to add gorgeous beauty stuff to their beauty bucket. You can get beautiful, unique, and customized bathing soaps, face masks, lip balms, and face scrubs.
Conclusion
Whether your baby shower is virtual or in person, your guests will absolutely appreciate these baby shower gifts. You, therefore, need thoughtful baby shower ideas that will go in line with the chosen baby shower themes.